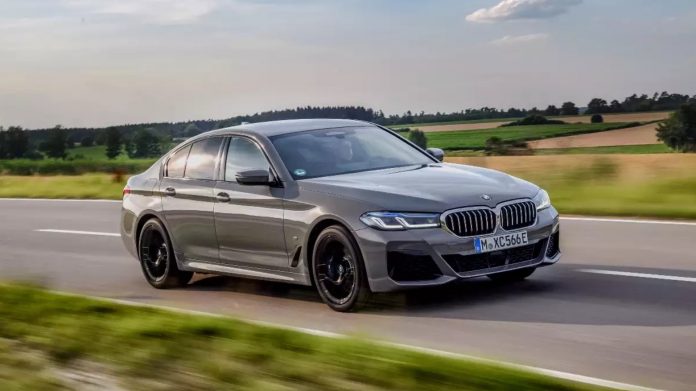 Recently, the fastest hybrid car of BMW has been unveiled. The German auto manufacturer, yesterday unveiled the BMW 545e xDrive, it is a Plug-in Hybrid car that means it comes with a petrol motor coupled with an electric motor.
When BMW first set about electrifying its line-up with an extended range of plug-in hybrid models a few years back, its initial focus was very much on fuel economy and lowering CO2 emissions. But as premium brand rivals have entered the scene with newer – and arguably better – executive car choices, the German brand has added a new and important facet to its increasingly popular petrol-electric models: performance.
BMW 545e xDrive Specifications
The new hybrid sedan features the BMW TwinPower Turbo six-cylinder petrol engine that is coupled with an electric motor. The engine outputs a maximum power of 289 PS with an additional 110 PS from the electric motor. The new BMW generates a total power output of 399 PS and offers a peak torque of 600 Nm. The engine is mated with 8-speed Steptronic transmission.
As the engine is the BMW TwinPower Turbo six-cylinder, therefore, it can go from 0 to 100 kmph in just 4.7 seconds with a top speed of 250 kmph. Even in pure electric operation, the BMW 545e xDrive can go at 140 km/h. If we talk about the fuel average, the car with a purely electric range of 54 kilometers and average fuel consumption of 2.4 litres/100 km.
The price of the BMW 545e xDrive starts from the GBP 54 thousands (roughly INR 54 lakhs).
BMW 545e xDrive Features
On the exterior, it includes a new-look grille, which is now wider and positioned lower than before. In keeping with other recent new BMW models, it receives a new single-frame design, with a central element in chrome, and sits within a re-profiled front bumper. The headlights are LED as standard, and with L-shaped daytime running lights and indicators located at the outer edges. Hence, the consumers get the choice of the Matrix main beam and laser light options to give the 545e xDrive a highly technical look.
At the interior, the new BMW comes with the updated digital instruments offer up a bewildering amount of information, although thankfully they can be tailored with different skin options via a button on the multi-function steering wheel. The latest, seventh-generation version of BMW's iDrive infotainment system, along with either a standard 10.3-inch or optional 12.3-inch central display, and an optional head-up display unit. The air conditioning controls are reworked, gaining a new display alongside revised materials and gloss black center console details.
It's an appealing and comfortable driving environment with generally intuitive controls that can be enhanced through optional speech and gesture functions. Despite being a prototype, the finish and overall feeling of quality throughout is excellent.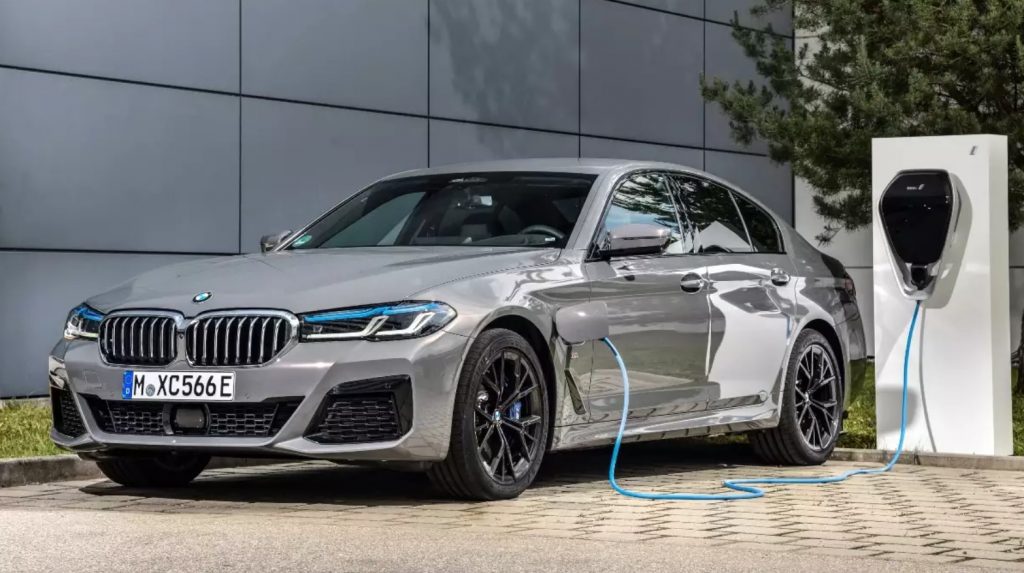 BMW 545e xDrive Modes
There's a choice of three main driving modes: Electric, Hybrid, and Sport, each accessed via buttons on the center console, which also houses a separate control labeled Battery that allows you to use the combustion engine as a generator to top up the battery.
The Electric mode, on the other hand, enables locally purely emission-free driving up to 57 km.
In Hybrid mode, the electric motor is predominantly used. The combustion engine only kicks in at higher speeds or under intensive load conditions. It automatically chooses the best possible means of propulsion for any given driving situation, dependent not only on speed but also on topography and other factors.
In Sport mode, the electric motor supports the straight six-cylinder petrol engine when the overall system output of 399 PS is fully needed. It configures both the engine and electric motor to run continuously and work together instantly, rather than switching between the two, providing the 545e with a truly rapid performance that's perceptibly stronger than in Hybrid mode.
Check out other latest cars like Audi A6 2021, Nissan Magnite, and Hyundai Tucson.
Interested in hybrid cars, check out the best hybrid cars.