Buying a car is a pretty straightforward process: you go to a dealership, choose a car, sign a contract, pay the money, and (if all goes well), drive away. One might not think this process can be improved and adapted better to our new digital world – but they would be mistaken. Today, an ever-increasing number of people are buying their cars online, without involving any human interaction except for the picking up and driving away part. And now, this final stage of the process has taken a new form thanks to an innovative method introduced by Arizona used car retailer Carvana.
Digital shopping, digital fun
Today, we are increasingly relying on the internet for our shopping and entertainment needs. Ordering products online and replacing a real-life gaming experience with the games at the JackpotCity online casino are common today. And why wouldn't it be? JackpotCity offers its users a complete experience that they can dive into with a single click or tap, and unlike its real-life counterparts, it also does so completely free. Like most other similar services, JackpotCity has focused on convenience long before the current situation around the world has turned it into a necessity.
When shopping online for vehicles, though, at least parts of the process are hard to do without face-to-face interaction, at least until self-driving cars become mainstream – and this is still a long way away. But thanks to Carvana, there is an alternative – and it's pretty exciting.
Vending machines for cars?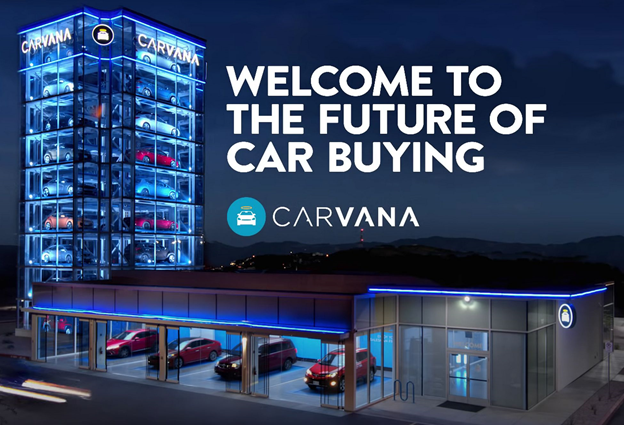 Basically… yes. But as you might expect, these are not your usual tin boxes with glass walls – and nobody expects you to fill them with coins until they spit out a set of wheels for you to drive.
Carvana offers its customers a complete solution to take care of their purchase over the internet. When the purchase is complete, customers will get an appointment for the "vending machine" in the area. There, they receive a custom token that can be used to pick up the vehicle. Next, the buyer inserts the coin in an illuminated slot, and this starts the process: an automated system will deliver the vehicle to the buyer.
More and merrier
Carvana's "vending machines" first emerged in the US a couple of years ago, offering their buyers a fun and ceremonial way to pick up their chosen cars. This new method of delivering cars was admittedly introduced for "fun", offering a fast, efficient, and futuristic means of delivery. There are currently 24 Carvana Vending Machines across the US, with the largest being the one in Tempe, Arizona – it stands nine stories high, with a capacity to store up to 34 vehicles at the same time.